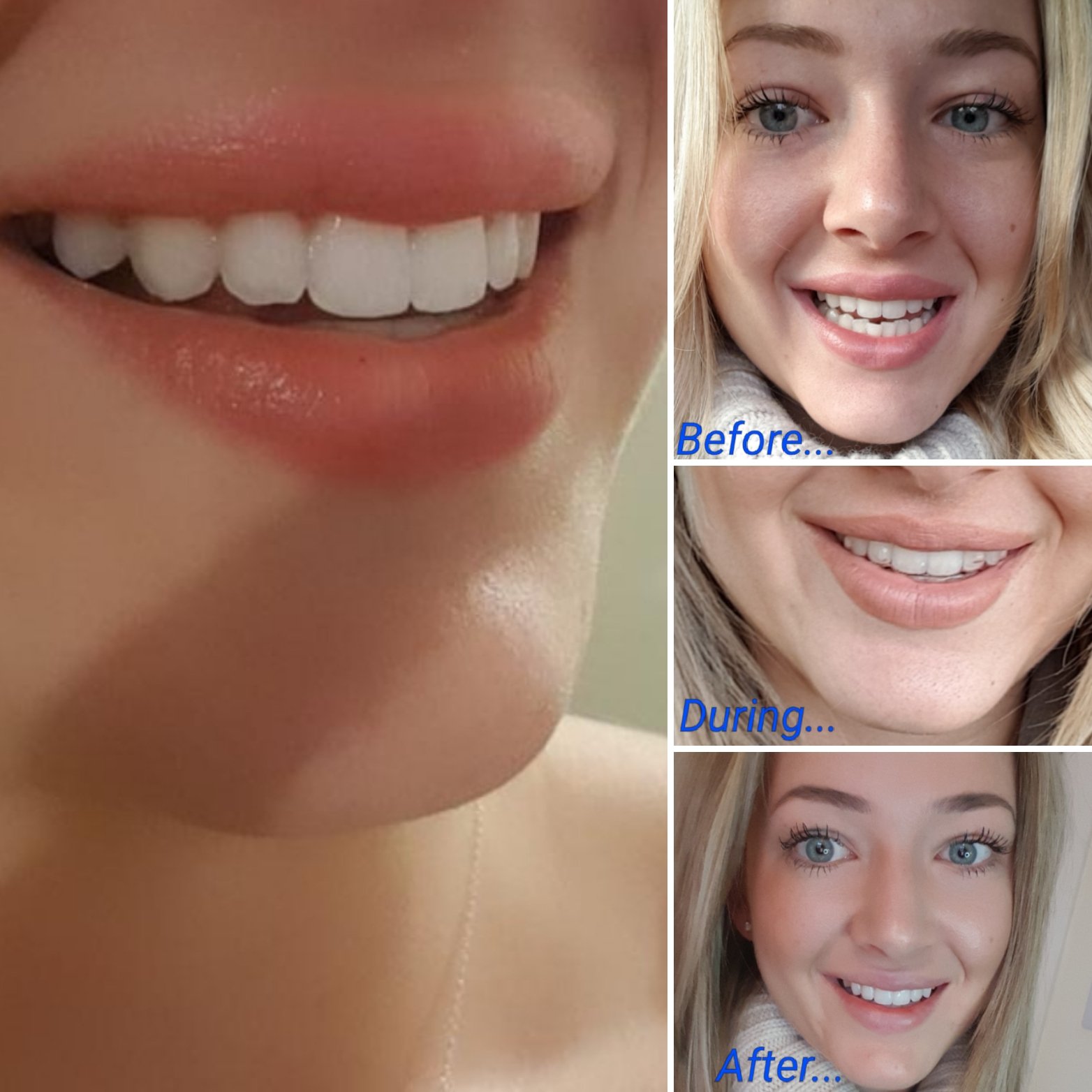 Ever wondered what Teeth Straightening with Invisalign involves
28 November 2018
Last December I started my Invisalign treatment through Hilton Dental Care and I can honestly say the whole process has been seamless from start to finish! A month before starting the treatment I'd had many conversations with Jatinder regarding the process, the various stages of the treatment and the payment plans available. He responded to each email and call (and I did send a fair few emails!) and he was always professional and happy to help.
I proceeded with the treatment straight away and when my ClinCheck treatment plan was sent across I had an appointment to view this and see how my teeth would move after each set of aligners. This was great because I was able to see a visual representation of the treatment I was about to start. At each appointment I had, Jatinder would regularly check the ClinCheck to make sure that my teeth were moving as they should do.
I was so excited for my first brace appointment and during the appointment I was told what was happening at each stage which was very helpful. I had little 'hooks' fitted to a small number of my teeth and these hooks give the aligners something to gently push on. The process took between 30-45 minutes and the team were always making sure I was ok during the process of fitting the hooks and fitting my first aligner. When I got home it did feel strange to be wearing the aligners and you do think "How am I going to do this for a few months?!" but honestly, you'll soon get used to them. In fact, now that my treatment is over it feels strange only wearing them at night!
As you may already know, you have to remove your aligners whilst you eat and you can only drink water with them in. You're given a blue Invisalign branded pot to store the aligners in when you take them out which is extremely handy. After you've finished eating you must brush your teeth to ensure that you don't cause any tooth decay during treatment. I'd say it took around a week to get used to removing the aligners and the new way of living with them! Again, you do get used to this and it'll feel completely normal! Many people used to ask me how I managed this whilst being at work and what I found is that you just naturally find a routine that fits in better with the aligners. For example, I used to eat my breakfast at home, lunch at work and then a mid-afternoon snack therefore I had to brush my teeth twice at work (I tried not to graze in between!). You'll find a routine of eating that fits in with you're lifestyle and for me, it actually meant having less unnecessary snacks!
During my treatment I had Christmas and a holiday which are two events where you tend to eat and drink more (and more frequently!) but don't let this delay your treatment as you really can work with it! For my work Christmas party I knew that I'd be out from about 7pm until late so I wore my aligners right up until the meal was brought out and then I popped them into my bag, enjoyed my night, had drinks and then brushed my teeth at the venue before I hopped in my taxi. On that occasion, my aligners were out for around 4 hours which is more than the recommended duration. Don't let this be a regular occurrence but if you have an occasion that you'd like to enjoy then just make sure that you pop your aligners in at the earliest convenience. On holiday it was very easy to manage as I was eating at similar points in the day to at home. When you do go away though you must remember to take your previous set of aligners with you in your red Invisalign pot which you will be provided with. This is so that if you happen to lose your current set, you've got your previous set to wear so that you teeth don't drastically move.
Watching the progress of your teeth move is pretty amazing and I literally saw mine start to move after the first month. I took my own progress pictures but the team will also take progress pictures along the way too. After a certain point in the process, if you want to you will be given a few aligners at a time so that you can change them yourself at the correct points. However, I chose to go to the dentist for each set as I found it beneficial for Jatinder and the team to check the progress and make sure that the aligners are fitting how they should.
If you skip forward to now, I've completed my treatment and I couldn't be happier with my new smile! I wouldn't say I hated my teeth before but I wanted the bottom set straightening and I wanted my whole smile to be whiter. With confidence, I can now say I love my smile and I don't cover my mouth when I laugh which I definitely used to do. I've had so many compliments about my smile and I've never had such good oral hygiene. I floss every day, morning and night using my air flosser. The air flosser is great for me because I've had a fixed brace applied to my bottom set of teeth to better ensure that they don't move around! The air flosser is good because it pushes water and air through the gaps in your teeth which dislodges food. I also brush my teeth three times a day and I still carry my travel toothbrush and toothpaste around!
A few hints and tips:
– Always wear your aligners for the recommended duration of 22 hours a day
– Carry a travel toothbrush and toothpaste around with you (I popped mine in a small toiletries bag – this was great for when I was at work)
– Always remember to carry your blue Invisalign pot with you
– When you go on holiday remember to take your red Invisalign pot with you with your previous set of aligners in
– Floss every day, twice if you can!
– Stick with it!! Even if your teeth feel tender, don't stop wearing the aligners as you'll only delay treatment
If you're thinking about having an Invisalign brace then speak to the lovely team at Hilton Dental Care! They're always more than happy to answer any questions you have and they can talk you through the process even if you just want to know more about it at this stage. You really won't regret it, I'm so happy I had the Invisalign treatment and especially through Hilton Dental Care!
Back to blog